#TheMeasure: 360 Fly 4K Action Camera
PhotoBite's Christos Christou gives you the measure of this impressive action camera
Out of the box
The 360Fly4K camera comes packaged in a large pill shaped box, presenting the camera in the top half. The bottom half houses the very cool magnetic charging cradle and USB lead, a soft zipped carry case, a quick start guide and a more in depth manual. It comes complete with a standard tripod mount and this review version also included a mounting for GoPro accessories.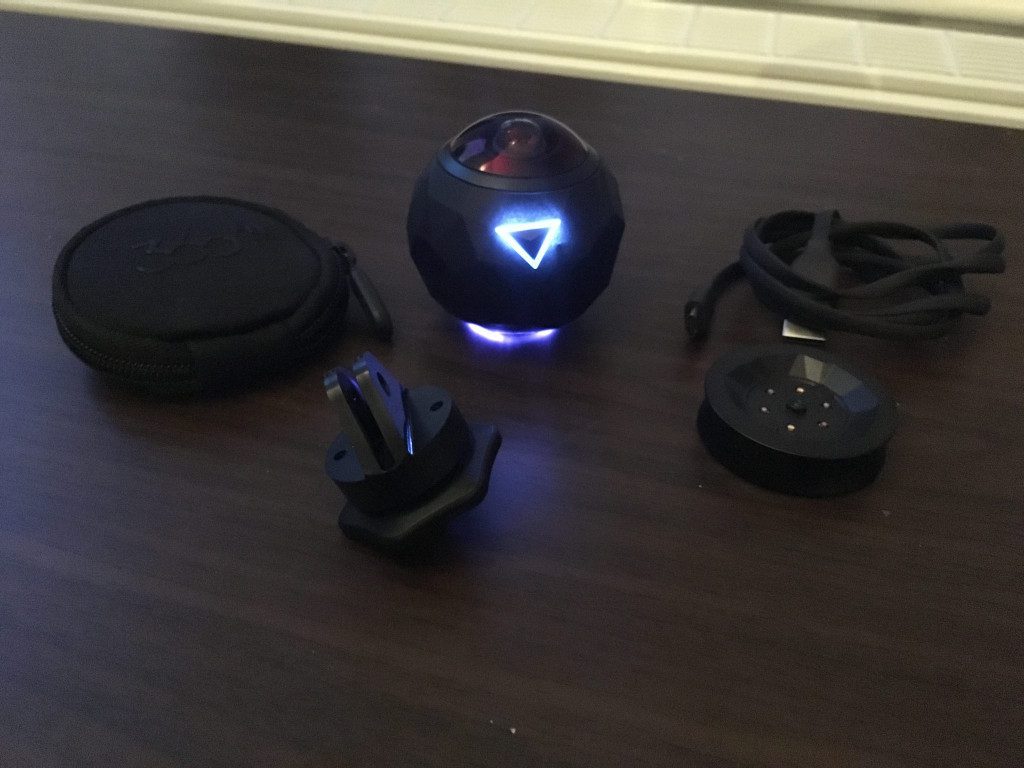 Getting hands on
The camera looks like an oversized black golf ball with hexagonal rubberised panels, which provide for a solid grip and a large lens on the top, reminiscent of Hal 9000 from the film 2001. It has a weight of 172 grams so feels solid in your hand but it's not so heavy to be off-putting; just reassuringly well built. It certainly has the cool factor as everywhere I went to test the unit, people were asking what it was.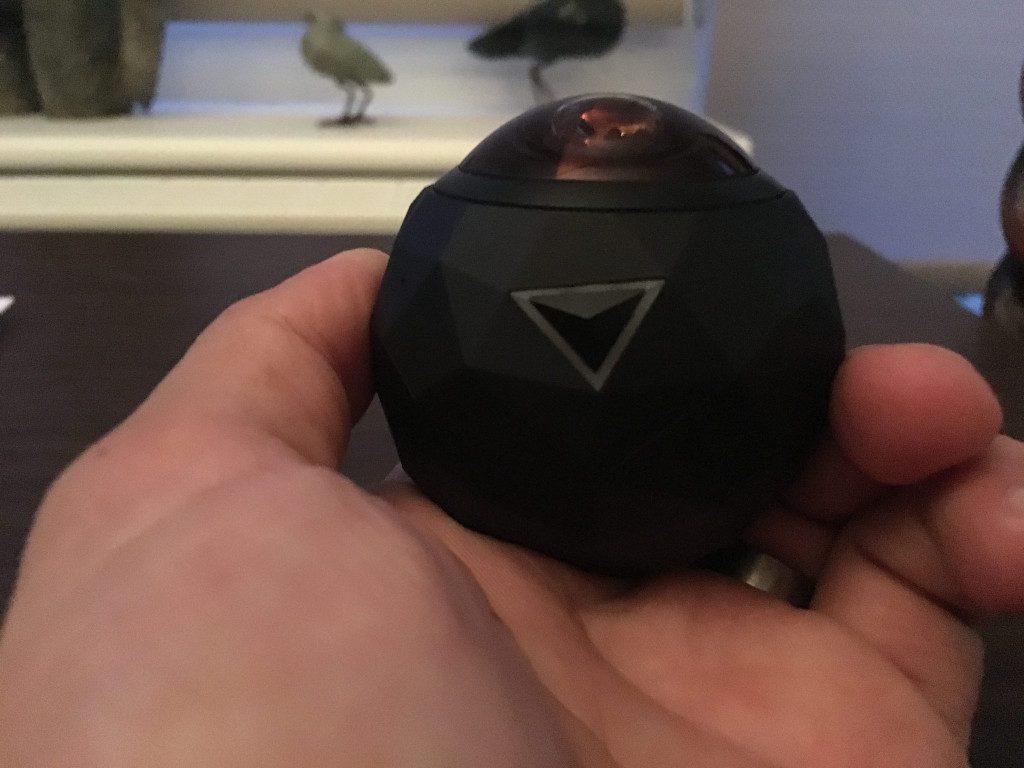 It has one sole button on the front to switch it on and which lights up to indicate what function the camera is set to, i.e. green for 'charging', blue for 'on' and red for 'recording'. You can hold the button to start immediately recording video footage but for anything more, and to dial in specific settings, you will need to use the accompanying [free] app. It's once you scratch the surface here that this camera really starts to shine.
"The 360 Fly 4K has a large lens on the top, reminiscent of Hal 9000 from the film 2001″
Setting up the camera requires connecting the cradle to a computer. Then you'll be prompted to setup a wifi password for the unit, so that it can connect to the mobile app. I found that there was a slight delay between switching the camera on, my phone recognising the wifi network, and then the app recognising the camera.
Once connected via the app you can choose to either record video or take photos and you can also choose your preferred resolution. There are also a number of additional modes available within the 360 Fly 4K, including time lapse, POV and stills burst mode. You can live view what the camera is viewing with the app at all resolutions, except the 2880 x 2880 @30fps. This is a shame because you are likely [as I was] to want to record in the highest resolution possible, given that this is a 4K camera.
It's likely that this will be something that will be addressed in a future update to the app/firmware. at least, I hope so.
The app also lets you view videos already recorded on the camera, run your 360Fly profile, explore others videos and download your videos onto your phone to upload to YouTube, Facebook etc. The video files are quite large, so unless you have a lot of free space on your phone, it's likely you'll be using the Mac/Windows 360Fly director app on your computer. The desktop app includes editing functions, which let you view, trim, add effects, produce 360 stills from videos, and merge your videos together to create a final cut. It is easy to use and again straightforward to upload to YouTube and Facebook or export your finished videos.
The camera comes with 64gb of built-in memory, which is helpful as you don't need to buy a separate memory card, but does mean that once you have used up all the memory you will need to delete files off the camera before recording more.
With my first test, I recorded around 10 minutes of video footage at 2880 x 2880, which took up about 8gb, so chances are you will manage approximately 60-70 minutes of footage until you've maximised the on-board memory. The battery also comes built-in, which means that there's no option to carry around spare batteries like you would with a GoPro. Worse still, once it runs out of juice, you will need to recharge the unit before proceeding. The specs state that it will achieve 1.5 hours of video recording, which is likely to be roughly the time that the memory would be filled up in any event.
The real win with the 360 Fly 4K is that the 4K footage is crystal clear. It's bright and delivers punchy colours too. I was very surprised and impressed with just how good the audio recording was. You can check out the first edited film that I produced with the camera [and app] from a recent music festival HERE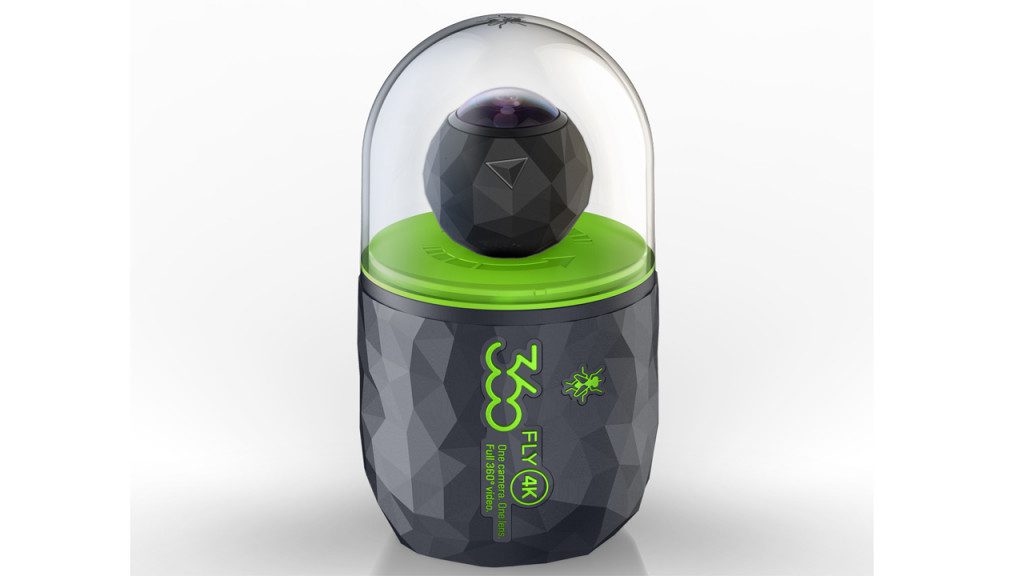 360 Fly 4K Pros:
4K resolution
Waterproof, dust proof, shockproof
One touch video recording
64gb internal memory
Brilliant accompanying app
Cons:
Built in memory and battery
Only 240 degree vertical
Always requires cradle to charge/transfer videos
Key Specs:
Full 360 degree horizontal and 240 degree vertical 4K camera
61mm x 59.5mm. 172g. 64 GB internal memory
2880 x 2880 pixels. Wi-Fi [802.11b/g/n]
Bluetooth 4.0. 50 Mbps
1.5 hours of video recording.14 hours standby
Stereo AAC 48KHz 96Kbps
Built-in dual omnidirectional accelerometer, e-compass, non-assisted GPS, gyroscope, built-in li-polymer battery (1780mAh), Approx. 2.5 hours with 1.5A charger
Overall the 360Fly4K is an excellent all round camera which is fun and simple to use. It's a great introduction to the world of 360 imagemaking.