Could the Peak Design Travel BackPack Be The All-Round answer To your prayers?
If you're looking for a backpack to use on a shoot, commute, travel the world or maybe all of the above, then perhaps you should look to the Peak Design Travel Backpack. Designed with the user in mind, this semi-customisable backpack promises to meet all your needs as a creator on a mission. As we preach in the PhotoBite office, bags come in all shapes and sizes to make its users moving life easier and the Peak Design Travel Backpack is no exception. We put it to the test!

In terms of design, Peak Design spend just as much time sourcing the right materials as they do designing their equipment. Using weatherproof 400D Nylon and poly melange, the Peak Design Travel Backpack is designed to take everyday use and abuse in its stride. The two colours, sage green and black, make them fit in with most surroundings well, and don't wave a sign that says "MY OWNER HAS CAMERA GEAR HERE. STEAL ME!".

There's also room for a laptop, up to 15 inches, and a tablet up to 10.5inches, [so if you have a 12-inch tablet you will need to use the laptop pouch]. Near the powerful closer-magnets, the backpack has hideaway waist straps, so you'll never need to take them off and forget where you put them.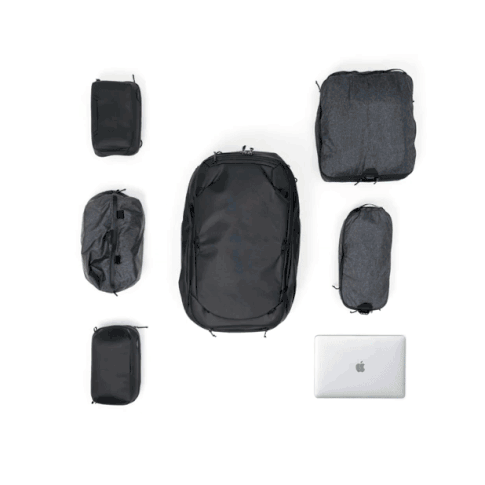 This Peak Design Travel Backpack is much larger than its Everyday Backpack brothers. The 45-litre backpack is designed to meet the needs of users by offering modular packing cubes that allow them to choose what they want to pack and how.

The camera cube comes in three sizes with each cube filling the bag by a third, so if you have a camera and a lens, you can opt for the small cube. If you have two cameras or you carry a flash with several accessories, then we suggest the medium or the large cube, which fills the bag. However, there is still room in the front pocket for a 'tech pouch'. Yes, you read that right, a tech pouch. Rather than storing your cables in every crack and crevice you can find. You can simply keep them all in one organised place; in the tech pouch. This has space for a reasonably sized battery-pack and phone when you need to focus on the job at hand.

Other packing cubes include a travel pouch, similar to the tech pouch it offers space for all your toiletries. There are three different clothing cubes to keep your clothes safe from moving around during travel, and a matching shoe pouch to stop the dirt from falling and slipping into the cracks of the bag. Finally, there's the trusty 'Rain Fly', the water-resistant cover that can be deployed, stopping the rain from slipping through the zips and ruining your day, [if the rain didn't ruin it already].

The backpack is littered with useful pockets, ideal for storing all kinds of accessories, from your headphones to your wallet. Speaking about the wallet, the cost of the Peak Design Travel Backpack is £299 and that doesn't include the packing cubes which range from £25-£90 each.
Add all of that up and you're looking at at least an additional £50 on the cubes to fill the bag with compartments.

Check out our walkthrough of the Peak Design Travel Backpack, the latest in #TheMeasure series and subscribe to our Youtube Channel – if you haven't already!