Bridging The Gap: Tom Oldham's Photobook Amnesty Delivers for Young Photographers
There's no denying that in 2019, life as a young person in the UK can be tough. Not since the early 1990s has there been such an uncertain landscape for the UK's youth and it has quite possibly never been as harsh as it is now for young creatives. A decade of austerity measures imposed by the UK government has not only stripped the nation's services and support structure to breaking point; it has also left the majority of state schools' creative departments suffering a lack of resources. Critical resources which help to shape and inspire young photographers as they consider their future prospects.

Photographer Tom Oldham recently leveraged his social circle, both off and online, to support young photographers in a groundbreaking project that's resulted in the collecting of over 400 photobooks for schools; demonstrating the power and generosity of the creative community whilst potentially making a significant difference for several years of photo students to come. PhotoBite Editor, Simon Skinner, spoke with Tom to find out more.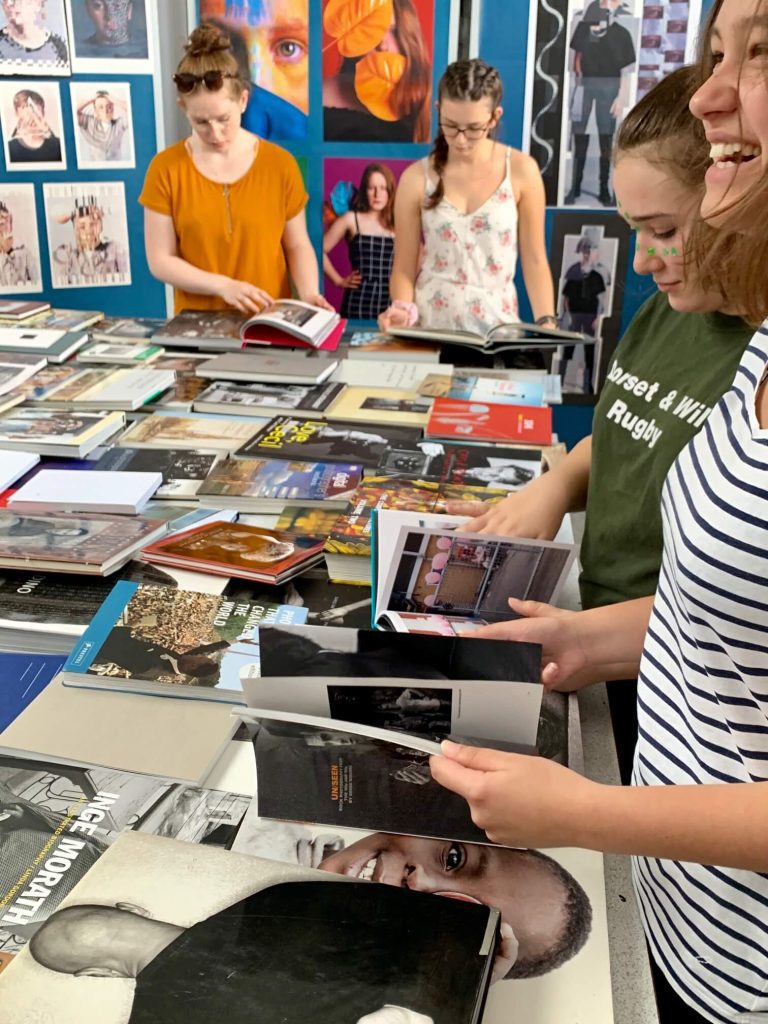 Simon Skinner: Hi, Tom. Considering the fact that many people are quite passive with their online community, your recent 'photobook amnesty' has been anything but. Can you tell us how it came to be?
Tom Oldham: Yeah. I've been working with a couple of state secondary schools for quite a while now. I grew up in Dorset and one of them is my old school; it's the local comprehensive in Wimborne and they've currently got a really inspirational [sadly outgoing] headmaster, and a fantastic art department. I'd been in touch a while back and they asked me if I'd come in and do some talks, which I'm always really happy to do with schools. The other one is another state school where a really good friend of mine, who I've known for about 30 years, is the Head of Art. He's really passionate about photography and I offered up the same thing as in Wimborne, that I can come in to just talk about what I do and show some pictures explaining to the students some real-life experiences of what the job of a working photographer looks like. During this time, it became apparent that they were quite seriously underfunded.
SS: What was it that first made you realise that? Was it as simple as being told or did you spot it somehow?
TO: I was in the art department staff room and somebody came in and said, "Where's the Blu Tack?" and the other chap said, "Oh, it's over in the other department." My response was to ask what was going on and I was informed that they had just one ball of tack and that they couldn't buy any more.
SS: Shocking, right?
TO: Absolutely. Coming from a commercial photography world, where you see vast swathes of money being spent and inevitably a lot of wasted resource, it was quite a shock to see these guys having to share a ball of Blu Tack. I've seen a lot of examples like this and it just seems disproportionately out of balance; that we're not investing in art education when there are so many beneficiaries of this self-same education, like the many in the world of commercial photography. I was angry, and anger has been a great motivator for me in the past, so it invited me to think, how about maybe I should get off my arse and try to contribute in some way.
This happily coincided with me winning the 2018 Sony World Photography Award in the Portrait category. Due to this, I'd been handed a Sony camera and I said, 'Thank you so much for giving me the camera, but shouldn't we be paying it forward? Shouldn't we be giving things like this to people that don't have cameras? I've been doing this a while and have great cameras already. Sony contacted me six months later saying, "That idea you had about schools. Could you still activate it because we've got 10 cameras to give away?"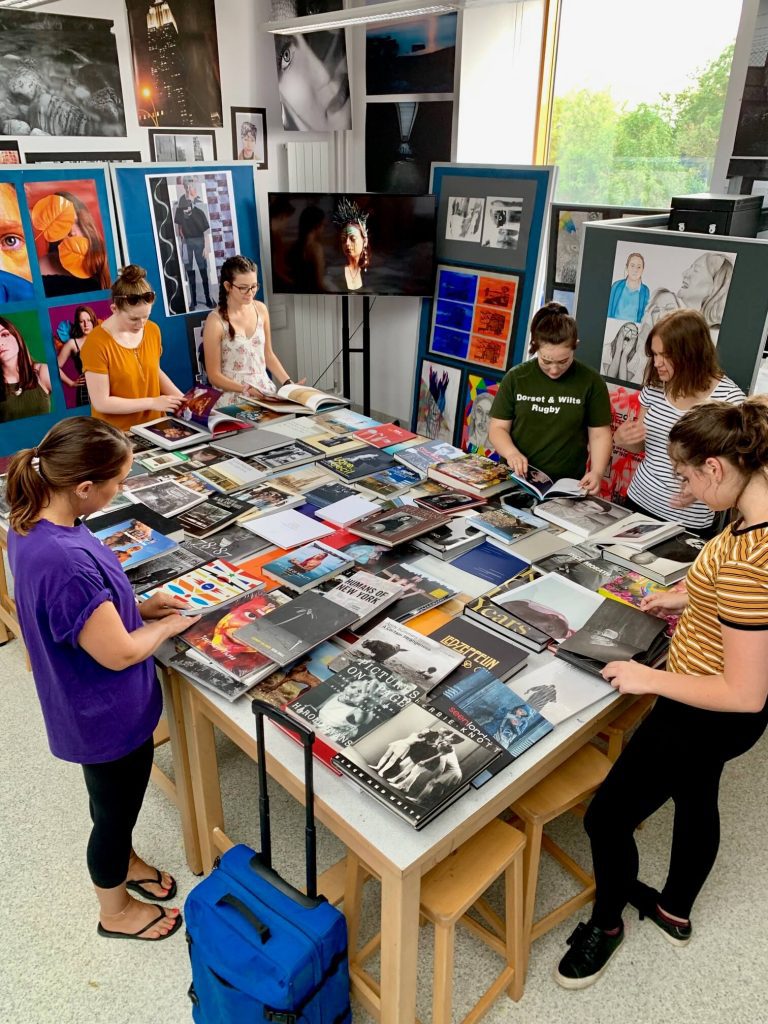 SS: What a gift!
TO: TOTALLY. I asked if it would be okay to give five cameras to each of the two schools and they were fine with that. We then had this really great day when the Sony team came down, and we demoed what the kit could do and it was really, really good fun. State schools just can't buy resources like that. They simply haven't got the money to buy cameras, so we gave the photography departments five cameras each. Sony were great and got them set up with perfect starter kits.
Amazingly, Fixation also donated two Profoto battery-powered lighting kits, which we were able to split between each school. We used the kit to show off what you can do with mobile lighting systems, [which I use for everything] and they're firing into that now too. The fact is, it could be tripods. It could be printers and ink, you know, it could be photo paper or anything essential to photography that frustratingly can cost quite a chunk of cash to get going. They just can't access the materials essential to producing and enjoying photography, which is wildly unfair, I think.
SS: That's huge. I mean, not least the value of the products that have been handed over when they're having to share balls of Blu Tack, but without the personal connections between brands like Sony and your relationship with the school themselves, those kinds of things wouldn't have happened.
TO: Indeed, I just can't see how it could happen. This was part of Sony's Corporate Social Responsibility work for the year. They came to me and offered the cameras and my response was great, but they also can't afford camera bags, memory cards or lens cloths. Necessary things like that. Could these be supplied too? That has ensured that these young photographers are now much better equipped at school and can access the resources to get them closer to being industry-ready. At least technically. When I saw them recently to deliver the books they made it abundantly clear how they really appreciate what we've done. The photography departments have modern, fully functioning cameras, which is a lovely thing.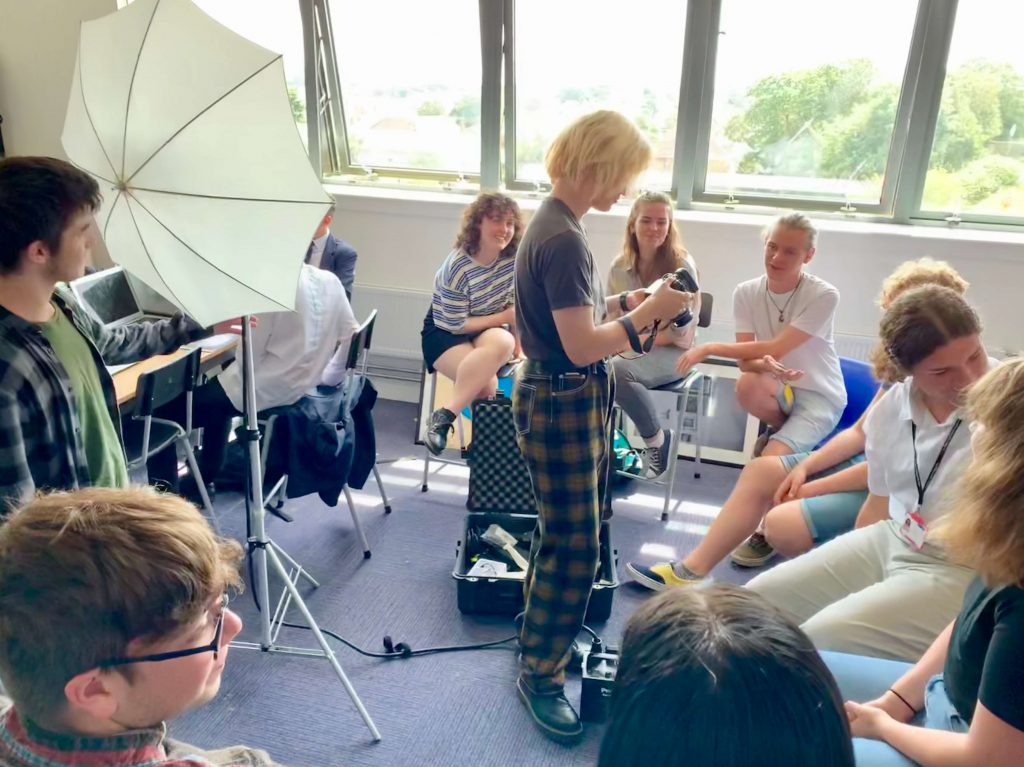 SS: So what were the students using to shoot with before this?
TO: They were [largely] using their phones, which is obviously no good. Well, not good enough.
SS: So was it a natural progression from supplying the hardware to trying to round up other resources, like photobooks?
TO: Kind of. The next visit I made to the schools, I'd spent some time clearing out my bookshelves and pulled out some photography books that I don't really look at anymore. Ones that felt under-utilised and just not enjoying enough love. It occurred to me that the schools don't have technical, reference or art books and I thought I can't be the only photographer who has a whole load of photobooks that really is just 'jewellery' on their shelves. And also, to clear them out once in a while when your taste has changed might enable us all to buy a load more, I suppose. People don't like throwing these things away so they sit and gather dust when really, they are a valuable resource to someone who can't access quality photography bookshops, galleries or shows.
SS: And so your campaigning kicked off from there. Did you quickly decide upon social media as the best medium to spread the word and call for action?
TO: Inevitably I, as most people do, use social media as a means for endless self-promotion. I do also feel as though I put a fair amount of positivity and support out there. I certainly try to and I don't feel as though I've ever really asked the network for much otherwise. I've never tried to take anything out of my social network, so I wanted to test it. I wanted to test the network and the community and see if there was any strength in it. It didn't let me down.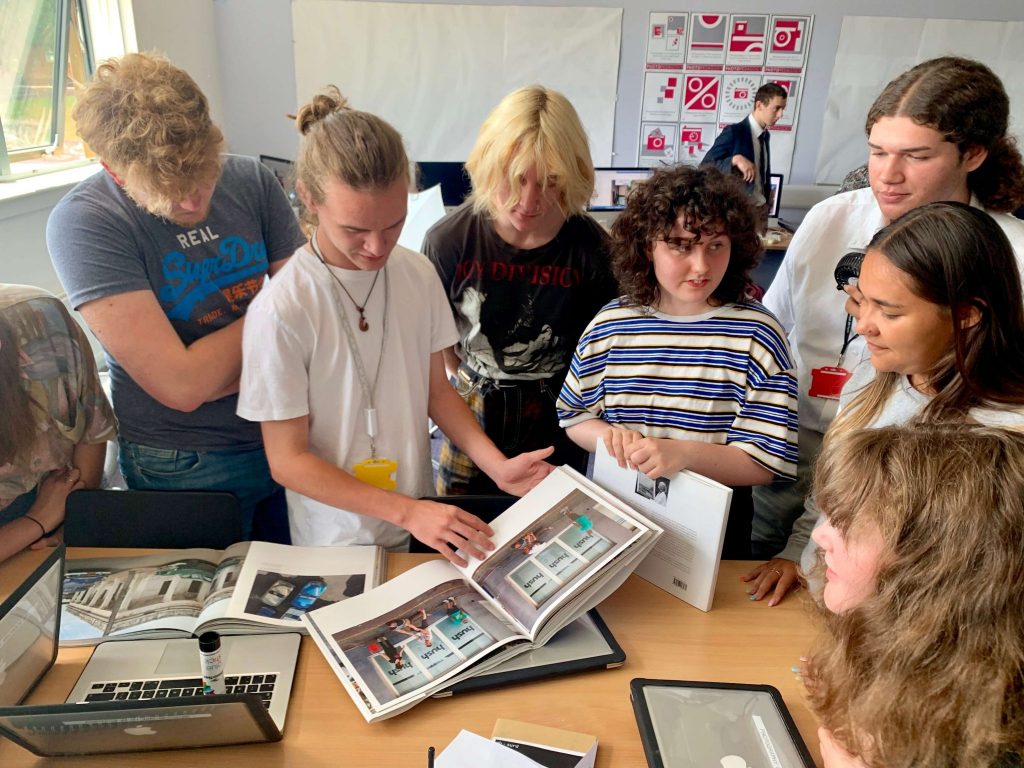 SS: So, was the response as positive and as rapid as you'd have liked?
TO: I was surprised at how quickly people started sharing the initial Tweet and coming back to me on Instagram. It came from all kinds of different corners. You know, there were a lot of people that would send their own books. Lovely people like Alys Tomlinson, Giles Duley, Peter Dench, Dean Belcher, Peter Zelewski… all fantastic photographers who put their own books out but also there were a lot of graduating students who have printed their own books too.
SS: Students?
TO: Yes. An example being Megan Bendall, who was studying at Gloucester University. Also, Ellie Ramsden sent me copies of her own, just-published book, as did loads of others. Kind people donating relatable material that would just sing to young photo students. There were all kinds of generous folk who could immediately see the benefit of giving to schools that have no photobooks.
SS: I noticed that United Nations of Photography sent a bunch of books your way, too.
TO: Yeah, Grant was super generous with sharing the details of the project both on Twitter and on his fantastic podcast. He maintains a solid following of passionate photography lovers who are very animated plus he also sent a load of top-notch reference and creative books which was really, really kind. There were so many acts of kindness. Two photographers in Ireland who went to donate but realised that it'd be cheaper to buy the books via Amazon and have them delivered rather than post their own copies to the UK. So it was really, really touching, that people should bother to that extent. That wasn't the intent of this; I was really hoping that people would clear out their shelves, but some people then went beyond to contribute. Heartfelt actions that really moved me.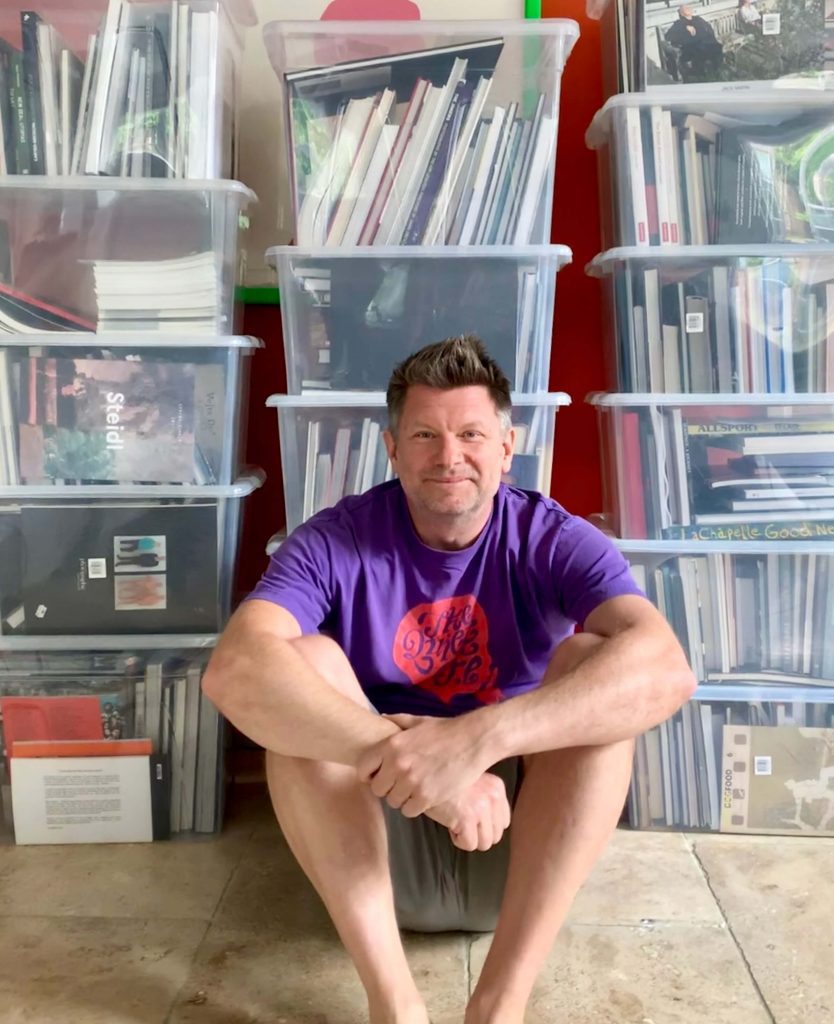 SS: At that point, surely you began to realise that it was becoming a 'thing'?
TO: Yeah, and it starts ramping up and you start to get a bit nervous-but-excited that it's getting such attention. It obviously had started to resonate with people.
SS: Which of your social platforms did you see the most interaction coming from?
TO: Predominantly it was coming from Twitter, which I don't see as being that positive a platform these days as there's so much negativity on there. Maybe people saw this as an antidote to that, albeit a small break from the madness.
SS: Absolutely. The results must have been really pleasing for you, too?
TO: Like I said, whilst I had instigated it, all I was really doing was cluttering up my hallway with books. So, you know, I was getting the tube and a few taxis here and there to pick up books, but people were kindly bringing them in from all over the country on the train to meet me at various train stations to collect. Lovely people carrying big heavy bags, including might I add, a mega-stash from the PhotoBite library. I met people right across London at Waterloo, London Bridge, Victoria, Kings Cross; all over town, which was very social too; actual meeting 'in real life'! The major effort was not on my part, really.
SS: Still, it is an effort that you've found the time and energy for. You have had to dig into your own day to make it happen, right?
TO: Yes, but it's the big compilation of collective time that was being contributed. People were sifting through their own stuff, thinking, 'I don't use this, I never look at it. I can share it' and then get it to me. It really was a beautiful sharing moment. Proper socialistic behaviour, I couldn't have been prouder.
SS: It won't come as a surprise to many people reading this, I'm sure. You only have to turn on the TV to learn how far budget cuts have gone in recent years, but it must be so different to see it from the front line?
TO: I nearly fell over when one of the teachers told me what his budget was to give such a large number of students an education. I couldn't believe how little money they have. They could never ever afford to buy the [over] 200 books that were donated [per school] so to see all of the books laid out was a real payoff for me. That's why I was so keen to share the pictures as quickly as I could so that the donators could see what they achieved.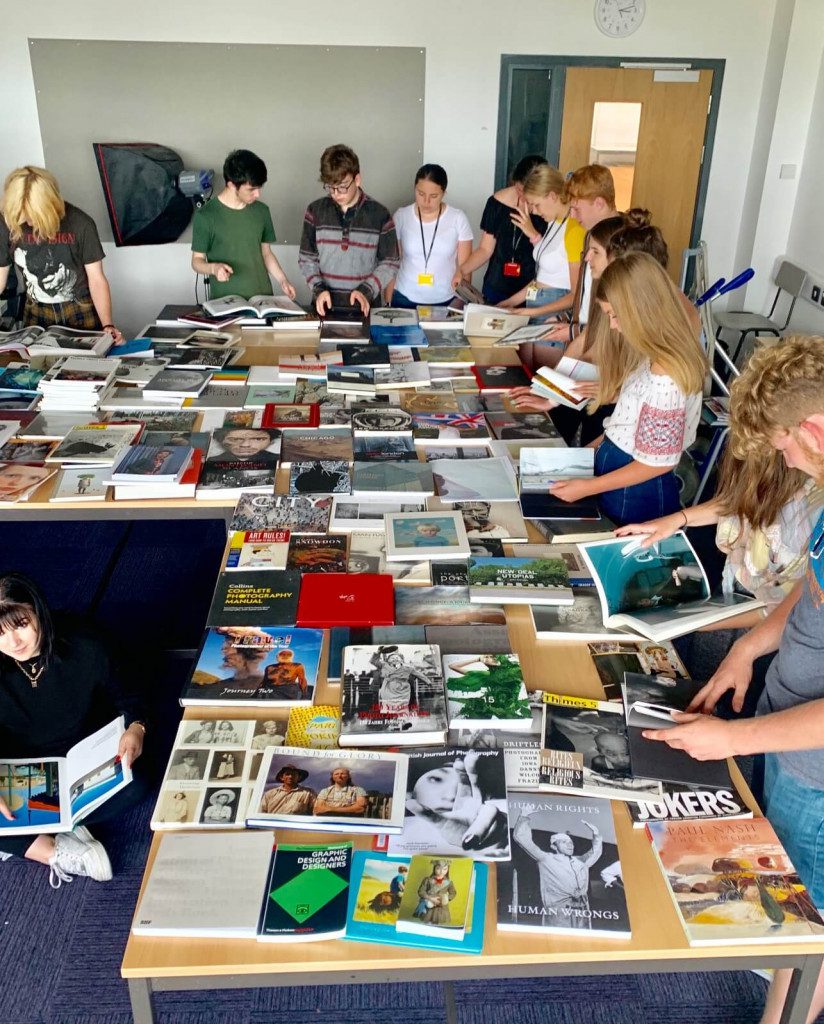 SS: So the cumulative effect of the whole thing has been a runaway success, right? Hopefully, it's not the last time you'll make a call of this kind to the photographic community. What was the overall result of the project in terms of numbers?
TO: There were over 400 books, which was absolutely breathtaking. Mick Moore at BJP, [British Journal of Photography] was really incredible and donated two trolley loads of books and just 'stuff' that's been sat around in their office for a long time.
SS: Kudos to BJP! Who else of note donated?
TO: There were so many, but Derek Ridgers is a photographer that I've followed for years. I absolutely adore his documentation of counterculture in [mainly] London nightclubs. He doesn't know me or anything about my work, but I reached out to him and he sent a box full of his books. Derek has published quite a few books and has been active for so many years in such a high-quality way and I couldn't believe how generous he was. On top of that, the way his work resonated with the students was so joyful to see. From a different side of the spectrum, work-wise is TPOTY, the Travel Photography of the Year program, who sent an enormous box of books! Again, work which is really applicable to young photographers. And these people were spending their own money on significant postal fees. Bluecoat Press sent another big box of books of genuinely inspiring photography including Jim Mortram's Small Town Inertia. And just think, these are tough times for publishers and booksellers. They might get a Twitter and Instagram mention but they're not going to sell a ton of books off the back of their support. Nobody's going to get loads more followers because they chipped in so it really was a selfless act of kindness to some random chap 'off the internet'.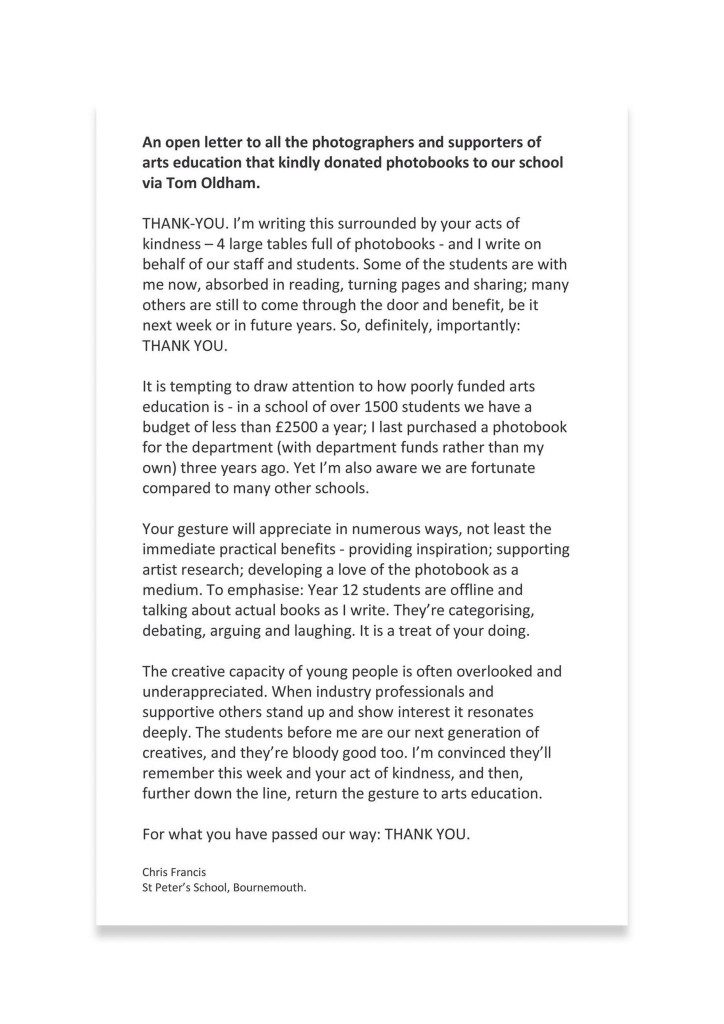 SS: Don't you think that's indicative of the photographic community in general? That there are a lot of people who see the value of contributing to projects like this beyond their own gains?
TO: I think I learned that, definitely. It would have been crushing if the response had been disappointing. You know, if people hadn't really shared it, they didn't feel inspired and didn't want to help – which happily wasn't the case at all. These were utterly selfless acts across the board and these acts typify the level of support that runs through the photographic community as a whole, so I'm super grateful for that.
SS : Do you anticipate this as an annual project, now, or is it something that you might action again whenever you feel the inclination?
TO: Maybe the people who have seen this will keep an eye out in charity shops. They might see something for 50p that could inspire someone to tell their own story in a way they'd never have imagined. Hopefully, readers could also think that they could help a school near them as I mean, it's not like I own this 'concept'. I would really love everyone to consider how they can make a difference locally if they're not already. Something I did learn is that the head of one of the art departments is really well connected to a great network of very active teachers all around the country, who he can reach out to at any point. So we've got an outlet for anything that comes our way now. I might crank it up again at some point next year, I think I'd be mad not to. Just to say, if anybody phoned me and said, "I've got two hundred books here for you" I'll bite their arm off like I would if they said they have just one book to donate. Creatively, you never know where or when inspiration will strike, and I'm now connected to the people that need it most.
Find out more about Tom Oldham, his work and to contribute to this ongoing project at www.TomOldham.com