Boost for Your Photography: The Business of Booths
Working as a professional photographer can be a precarious vocation at the best of times. The cold fact is that there are precious few photographers that make the upper echelons, in terms of earning capacity. As with any other industry, music, sport, etc, you'll find Mick Jaggers along with Usain Bolts and David Beckhams, but they really do exist in the thin end of the wedge of their respective industries. The rest will fight for work, constantly promoting, networking and diversifying in order to stay ahead and earn a crust
The photo-finishing/retail sector is also a space where fresh ideas and diversity are needed in order to combat the downturn that many have seen in recent years, as fewer people print their photographs as a normal activity.
With such a significant percentage of serious enthusiast and pro photographers working in the event markets, it's no surprise that many have embraced the significant trend that is the 'old-fashioned' photo booth.
With the rise [and rise] of digital imaging, the photo booth had almost become consigned to history, all bar the official passport booths that dominate the shopping mall and train station markets. The 'need' for photo booths had all but passed with the mass market switching to alternative means of capturing and sharing their snaps with mobile devices.
What we've witnessed in recent years, is the resurgence of the photo booth as a novelty item. A nostalgic addition to the event market as [more mature] people pile in to recapture the memories of their youth, and a younger crowd discover the 'retro' act of printing photographs. The fact is that everyone loves a photo-booth, but not everyone feels comfortable pulling a silly face in front of a photographer. Photo-booths can re-introduce a desire to print again, or indeed, for the first time. Here lies an important point.
Photo printing is still a huge and important part of the photo industry. Albeit in smaller numbers, people still enjoy holding a physical print in their hands. Showing friends and family in an album or hanging on a wall, prints are still popular but we have an ongoing job to remind the digital generation of that fact and a photo booth can serve as the perfect tool.
Another plus of photo-booths is that using dye sublimation, [dye-sub] printing technology, they can produce an excellent print in an instant. There's very little waiting and as people grow more impatient, living in the 'now' culture that we find ourselves within, the instant gratification is a big factor in the appeal. It's no surprise that instant cameras have also seen significant growth, and largely for the same reasons as photo-booths.
A photo-booth can provide an effective additional revenue stream to your photography business, with a price tag of between £3–600 per event, on average and, depending on various factors such as distance, time etc. A big plus is that you can leave it unattended for long periods of time, with customers/guests being inclined to use it, providing it's self-explanatory enough.
Setting up correctly in the first instance and providing you've invested in stable equipment, the booth requires little maintenance, meaning you can get on with doing your 'regular' job, shooting the happy couple or capturing an event.
Suzie Hughes, Creative Director at UK booth manufacturer, Everybooth, said: " We started our photo booth business 7 years ago, in October 2010 and saw it as a great business opportunity to partner with our wedding photography business. Anyone working in the wedding photography business will know that there's a natural limit to the amount of work that you can undertake. We had reached that limit but didn't want to limit the growth of our company. Now, the photo booth business is so busy, we can be more selective with the weddings that we shoot."
Suzie continued: "We spotted the photo booth trend escalating in the US market, but not many people had started in the UK. Initially, we looked, but couldn't find a good quality solution, 'off the shelf'; there were many bad quality booths that were being produced for the general entertainment market, but these didn't sit well with a photography business, so we designed our own photo booth and now sell to lots of photographers across the globe. Our target market is the quality event photographer/wedding photographer who doesn't want to enter a price war, where many undercut each other on price alone. At the beginning, we felt it was important to produce a quality print from the booths as this is what people will treasure thereafter. We launched at UK Photography Show and are now developing a new design, which is specifically designed around the CITIZEN PHOTO CX-02 as it's a smaller product than we had been using previously, with an excellent standard of quality in its output and also much easier to transport; as such, the printer is much better for the rental market. After the Photography Show, we took the booth to The Photo Booth Expo [PBX] in Las Vegas and we will be attending the UK The Photo Booth Show 17–18th Oct in Northhampton."
In short, whether you're a freelance photographer, studio, or a retail business, having your own photo-booth could be your next best investment. So where do you start?
Off the shelf?
To meet the demand caused by the surge in popularity of the humble photo booth, there are a good number of companies manufacturing 'off the shelf' solutions. These companies can provide a simple and quick option to get moving with your businesses new revenue stream and will provide a solid option for those who want to opt for a tried-and-tested, factory-built photo booth, that will serve as a plug & play solution and will instantly integrate with your business from the get-go.
'Off the shelf' booth solutions can be an excellent option for the retail sector; sitting in store throughout the daytime, with the potential to be transported for events in the evenings and weekends. They also provide a simple solution for the 'general' events market and for those without specialist photographic know-how.
These solutions come in all shapes and sizes, from the high end that can be found at Everybooth, to lower-end, 'pop up' and even inflatable booths, but they will all come fully-loaded with equipment of the manufacturer's choosing. They will all work with their preferred suppliers, so be sure to get a list of components before agreeing on any purchase. The hardware in your machine will set the standard of quality and reliability, and will also influence your potential rental rate.
Photographers who are considering the addition of a booth to their business, generally speaking, have a greater depth of knowledge with regards to the technical components needed to run a photo booth, and as such, a custom-build solution could be the answer.
Custom build
The booth:
Aside from the tech that operates the booth, the shell is relatively straight forward in its planning and construction. Using lightweight materials to construct a modular, portable booth is well within most people's technical drawing capabilities. If not, a conversation with your local, friendly carpenter, will get you on the right track for a materials and cutting list.
Think about how you want it to look once it's complete. Will you paint the finished booth, or will you use a laminate or vinyl wrap? Think about signage, 'collect prints here', (with arrows) and 'look here', to direct your customer's eyes to the camera's lens, as many software solutions have a preview on-screen, which many will stay focused on during their sitting.
You'll also need to think about the configuration of all components on the user-facing interface, but in all honesty, a little research online can help you to work this out and given the fact that every booth is different, you'll need to do some maths!
Camera
The camera required doesn't have to be anything too fancy. You can use any DSLR camera, in theory, but it will need to have a tethering option and the ability to be powered via a separate, permanent power source. Running off the native battery could be catastrophic when the battery dies and you're tied up with customers or guests. If you consider operating your booth in a field or somewhere remote, (festivals etc) then you'll need to make sure that you can power it through a generator as this may be your only option in some cases.
Software
The software you choose will serve as the 'brains' of the operation, so using the right program can make or break your photo-booth. If you're not a technically minded when it comes to computer software, there's no need to worry as a quick search on the web will show an array of different software for photo-booths. The important thing is to take advantage of the trial periods to see which ones work best for your business. Can you add templates or logos? How adaptable are the layouts? How many default templates does it have? What's the cost? Does it run reliably in the booth with no glitches or crashes, [in fairness, your choice of computer will have a hand in this, too]? Can it connect to WiFi for social uploading, etc?
In short, all booth software is relatively simple, so play around with different suppliers solutions before making up your mind. You must make sure the software you use is one that works best for you and the hardware you have inside the booth.
Printer
If the software is the brain of the booth, then the printer is the heart.
This is the one piece of equipment that you need to rely on entirely for the solid operation of your booth. Not just for the sake of reliability, although that is fundamentally important, for the quality of the print output. Quality is key.
Your booth's reputation will be largely based on the quality and reliability of the photographs it produces and as such, it's not really a component that you should seek a budget option for.
There are a handful of dye-sub printer manufacturers in the market currently, but all are not equal. With almost 100 years of precision engineering experience behind them, CITIZEN PHOTO products are some of the most reliable in the market; regularly leading the pack in independent tests, with market leading print quality. A clear choice for peace of mind in your new photo booth venture. Let's face it, the last thing you want to happen whilst on site is to have to regularly fight with paper jams and sub standard prints from poor quality media!
"There's no question that photo booths have been experiencing somewhat of a resurgence in recent years, and we see the sector as an important one for the industry as a whole. Whilst the perception may be that photo booths are a simple, novelty niche in the market, they represent a great, value-add, revenue stream for all kinds of photo businesses." He continued: "Of course, your choice of printer will determine the quality, and therein, the price you can charge for your service, so buy carefully."
Gary Andrews, EMEA Business Manager, CITIZEN PHOTO
Lighting
With the advent of LED lighting, we're lucky to be living in an age where lighting solutions are relatively inexpensive to buy, cheap to run and don't get too hot, meaning you can leave them powered up for long periods of time without having to worry about them.
There are a good many lighting manufacturers serving the photo market, but as your lights are likely to be sitting behind a form of frosted Perspex, any LED lighting will work. Some of the most reasonably priced, [yet perfectly adequate] solutions can be found in regular hardware stores so have a shop around before diving in.
That said, if you are looking to market your new booth as 'studio' quality, you may want to offer a list of equipment; in which case, using regular photographic LED panels may well be the answer.
Screen
Your options for the touch-screen are basically limitless. Key factors that you will need to consider, though, are the size of the screen and the options to mount into the booth securely.
Most modern touch-screens come as 'plug and play' solutions nowadays, but, even if you're looking at second-hand screens, many older models will also work out of the box; just make sure that you check compatibility before buying. There are a great number of second-hand screens in the computer salvage market, with some dedicated Ebay shops and other websites offering reconditioned units that will come with full mounting brackets and cabling.
As with any of the booth components, you can spend what you like, but our advice would be to look hard at second-hand options. These units have been built with heavy, physical use in mind, and you may find a robust unit that has years of life left in it, for very little money.
Coin-op?
You may want to consider installing a coin op facility into your booth, to really give the 'authentic' retro experience to your booth. That, or you may be putting yours together for a permanently sited retail environment, where you want the booth to be completely self-sufficient.
You'll need to make sure that your coin acceptor device is compatible with your chosen software [most will advise this in their FAQs if they offer compatibility at all] and the tokens themselves are compatible with coin acceptor [if using tokens instead of coins]. Most coin acceptor manufacturers and/or suppliers will advise you on this point and many will supply both, to make life easier.
Props
This really is the easy part. There are so many places to buy items for 'dress up' online. Any web search for fancy dress will throw up endless options for you to scroll through, but be mindful that, ordinarily, you'll only need to think about the waist up, so plenty of wigs, hats, and glasses!
It's always worth scouring your local charity stores, too. They can be gold mines for photo booth props, serving an abundance of silly costumes and items for your photographic purposes.
N.b. Remember, though, not every event will want party hats and comedy glasses, so be sure to talk to your customers about their requirements.
Once you're all set up
Run your new booth through some tests to check for any issues and invite some friends and family over to try it out for the first time. Ask for their feedback on their user experience and what works well, and what doesn't. This testing is really important to ensure you have an efficient and reliable photo-booth that customers will want to use again and again. The last thing you should do is to take the booth to a job untested, as you're likely to need to iron out certain issues, even if they are small ones.
Marketing your new booth
Chances are that, if you're a jobbing photographer, you'll have a website already set up for your business. A similar story for your social media presence.
The choice you have from here is whether or not you want to add your new booth to your existing platforms as an 'additional service', or to build a new, dedicated presence for your booth business.
Either way, it's a good idea to get some strong images of the booth, both in use and otherwise, to show people what it looks like as certain people will buy into your chosen aesthetic, which may also be appropriate for certain types of events.
Be sure to utilise photographs that have been taken in the booth, even if you've set them up for promotional purposes. Potential customers will want to see examples of the results from the booth, ideally, and often the sillier, the better.
Beyond this, it's a good idea to list your booth business independently on sites such as Google Business, Facebook's Marketplace, Gumtree and Yell, along with any regional/local platforms, as many people will search for photo-booths by location and you'll want to make sure that you appear in as many searches as possible.
Don't Forget the Expos
As stated by Suzie Hughes, there are a number of relevant exhibitions that take place across the EU, including the now-annual Photokina trade exhibition that takes place between the 26–29th September in Cologne's Koelnmesse and The UK Photography Show, which takes place at Birmingham's NEC between the 17–20 March. Both are good examples of large, trade-specific events, but there are a multitude of specialist events, such as wedding fairs, where you will be well positioned to market your solution. The main consideration here, is who exactly you are marketing to and why; are you selling the booths or the service?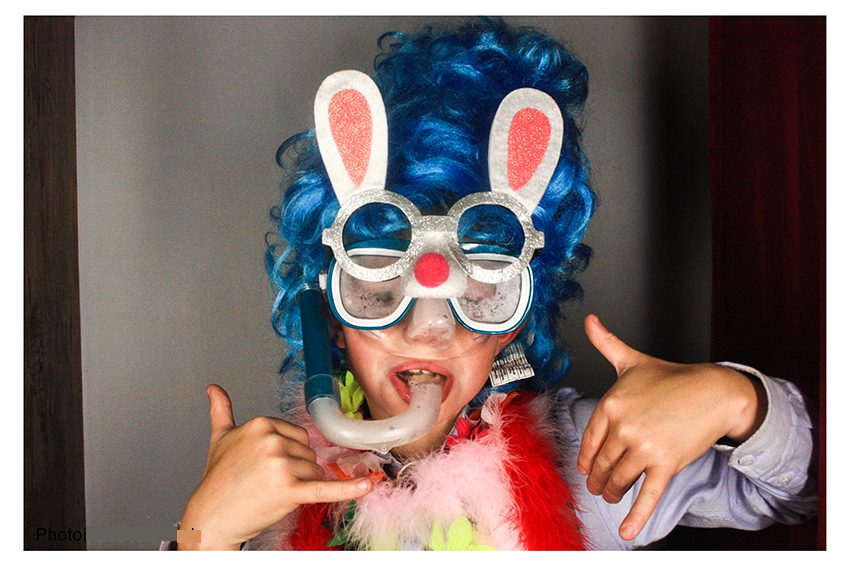 Corporate Hire
Aside from the wedding market, there is also a significant corporate market to promote your photo booth business to. Award ceremonies, conferences, and even Christmas parties are all areas worth exploring and can often pay a premium.
There are other benefits to renting your booth solution to these kinds of events. Many corporate clients will want additional branding to accompany your photo booth, so it is an excellent idea to offer branded photo-holders, magnets and flyers, along with branded panels, which can be simply produced and re-sold at a healthy premium.
However you choose to proceed with your photo booth business, there are certainly many options available to you and it is a market that seems to be growing year on year as people rediscover the beauty of the physically printed image
Useful links:
twitter.com/photoboothshow
This article was originally produced by Citizen Photo